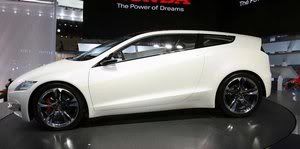 Honda Production Plug-In Hybrid Cars and Electric 2013 ~
After competing in the hybrid,
Honda and Toyota
are now fighting again in technology and plug-in electric vehicles. The second largest car manufacturer in Japan that are both already play strategies and products will be marketed.
Once again in a matter of environmentally friendly technologies, Toyota has always been a leader among manufacturers in the country. Including environmentally friendly vehicles to market with plug-in technology and electricity, production began in 2012.

Honda Motor Co. (HMC), today (07/20/2010), as reported by the Nikkei news agency will also produce a hybrid vehicle that can dicharger batteries at home and all electric vehicles.

This is delivered directly by the President of HMC Takanobu Ito. Apart from the two types, there are other alternatives. But, Honda began producing in 2013.

Honda Party divulge little about the hybrid plug-ins. He said that, the vehicle can cover the distance of 60 km or more with one liter of gasoline. This is much more efficient than a Toyota which only covered 38 km per liter. Although denied by Toyota if hybrid plug-ins that use the Prius as far as it could be sped 57 km per liter.

With its two flagship products, the Honda seen as a future alternative vehicles. Japanese and American market remains a priority. In fact, it was possible that the U.S. be the first to be introduced at a time to market. More precisely, Honda pointed to California in 2012.

Considering Honda Insight hybrid will be produced and the two other models in the United States, which now is made in its factory in Suzuka. So, later in 2013, Honda will market five hybrid models will be even better.

In fiscal year 2009, Toyota managed to sell 270 000 units of the Prius in Japan. Currently sell 100,000 units of Honda Insight. The number is still relatively small, namely only 10 percent of the total market share in the land of Sakura. The government tried mendongkraknya be 20 to 30 percent.